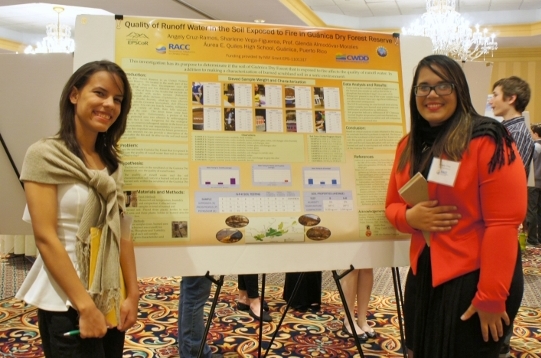 2014 Symposium
The CWDD was excited to showcase the hard work of participating high school and undergraduate students in research conducted through the Research on Adaptation to Climate Change (RACC) program. This symposium provided an opportunity for students, faculty, and other interested state and local groups to share their findings and network with others working on watershed issues. Researching the connections between land use and water quality is important work, and the CWDD is proud to work with so many wonderful young scientists in this effort.

The 2014 Symposium was held on April 2nd, 2014 from 3pm-7:30pm at:
Sheraton Hotel - Burlington
870 Williston Rd
Burlington, VT 05403

Symposium Agenda
2:30pm-3:00pm Registration
3:00pm-3:30pm Welcome, Introductions, and RACC Update
3:30pm-5:00pm Oral Presentations
5:00pm-6:30pm Poster Presentations
6:30pm-7:30pm Dinner


Thanks to all who participated in the 2014 Symposium!
View photos, posters, presentations, and program from the 2014 symposium.
Data analysis, poster and presentation resources
For other past Vermont EPSCoR Student Research Symposia:
2013 Symposium
2012 Symposium
2011 Symposium
2010 Symposium
2009 Symposium
Back to current symposium page


Contact Information:
VT EPSCoR Center for Workforce Development and Diversity
Saint Michael's College
One Winooski Park Box 137
Colchester, VT 05439
802.654.3270
cwdd@smcvt.edu
Like us on Facebook!