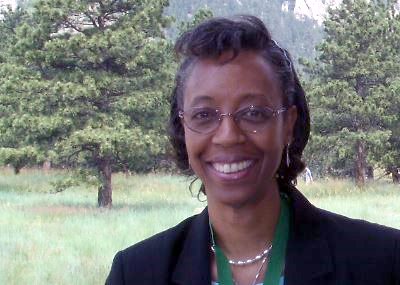 Dr. Lesley-Ann Dupigny-Giroux, Department of Geography, University of Vermont, co-authored inaugural journal article published in the American Meteorological Society Journal awarded the NOAA Department of Commerce Silver Medal.
A group honored for conceiving, designing, developing, and implementing the revolutionary Local Climate Analysis Tool (LCAT) that uses trusted data and scientifically-sound analysis techniques, as determined by Science Advisory Teams made up of NOAA and external scientists, to provide stakeholders rapid responses to questions on the impacts of local climate variability and change was awarded the Department of Commerce Silver Medal. The medal was awarded for Scientific/Engineering Achievement. LCAT enables users to provide decision support to customers in seconds what otherwise would take hours and provides all relevant statistical output as well as metadata and graphics.
National Oceanic and Atmospheric Administration (NOAA) National Weather Service (NWS) implemented the new Local Climate Analysis Tool (LCAT) on July 1, 2013. The tool supports the delivery of climate services by quickly providing information to help with climate-sensitive decisions and to facilitate the development of local climate studies and assessments. LCAT provides its users with the ability to conduct local climate variability and change analyses using scientific techniques and the most trusted data, identified through consultation and approval with NOAA subject matter experts. LCAT data include climate relevant surface observations for individual stations, regional divisions, and gridded reanalysis output. LCAT methods include trend-fitting techniques to assess the local rate of climate change, frequency and conditional probability analyses, and correlation studies to identify existing relationships between local climate and modes of climate variability, such as El Niño Southern Oscillation (ENSO). The tool produces customized output for individual users through a web-interface. These include graphical and tabular numeric data that can be either saved in the LCAT online environment or exported in standard formats for further analysis. For each query, LCAT provides an explanation for all graphical output to help users interpret the scientific results. LCAT also offers training modules explaining usability, data, scientific methods, and potential applications, with emphasis on the tool's appropriate and inappropriate uses. Examples of LCAT applications include guidance for planning, resources management, and assessment purposes. LCAT has the potential for expansion to include a wide variety of datasets for broader application in environmental and socio-economic decision-support.
https://journals.ametsoc.org/doi/abs/10.1175/BAMS-D-13-00187.1