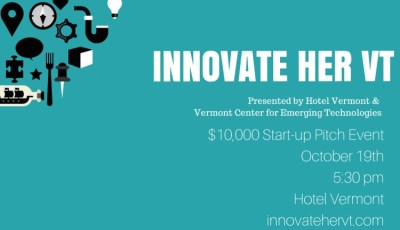 October 20, 2015 (Burlington, VT): The Vermont Center for Emerging Technologies (VCET) and Hotel Vermont hosted the InnovateHER VT Challenge, a new business pitch event in Burlington, VT on Monday, October 19th to a packed house of area entrepreneurs, students, and innovation ecosystem participants. Mamava, a company who delivers design solutions for nursing mamas on the go, was named the contest's $10,000 prize winner.
"We were incredibly inspired by our co-presenters last night and are deeply humbled to receive this award. We're very hopeful and excited to represent our brand and Vermont on the larger SBA stage, showcasing how successful business is not only about doing well, but about doing the right thing" said Sascha Mayer of Mamava.
VCET received 37 different applications for the competition but had to narrow it down to 6 companies for this pitch event. Wheelpad, JoyRyde, Recontext Solutions, ThinkMD, BioFlag and Mamava shared 5 minute pitches of how their company makes an impact on the lives of women or families. Over 100 people filled Hotel Vermont's Juniper Hall to hear these stories.
"The vibrancy, strength and diversity among Vermont's entrepreneurs was clear to all," said VCET President David Bradbury. "Teams came from Hardwick, Wilmington, Burlington and Middlebury and showed real solutions for genuine market problems ranging from cancer drug discovery, data science tools for education outcomes and anti-texting while driving apps."
" Each presenter did an outstanding job and the ideas and concepts presented were in some cases life changing and in all cases disruptive of the current (which is what we want). Hotel Vermont was honored to be a co-host of this event and looks forward to an active winter with more activities together with VCET," said Hans Van Wees, General Manager of Hotel Vermont.
Thanks to Kelly Scannell from Reading Plus, co-founder of Dealer.com Rick Gibbs and Mary Evslin founder of NG Advantage who were on the judges panel and had the difficult task of selecting just one comapny to receive the $10,000 cash prize.
Vermont EPSCoR and VCET underwrote this year's cash prize. Mamava also receives a nomination to participate in the national US Small Business Administration's InnovateHER contest in spring 2016. "Our team was really impressed with the quality of the ideas, execution, and pitches from little ol' Vermont- every single pitch was very compelling." — Lyn Olignaro, founder of BioFlag
# # #
About Hotel Vermont: Locally developed, designed and owned/operated, the rustic and modern Hotel Vermont is the first independent hotel to join the quaint town of Burlington. The 125-room, LEED-certified hotel features an array of Vermont-made amenities from local partners. www.hotelvt.com.
About VT EPSCoR: The Experimental Program to Stimulate Competitive Research (EPSCoR) is a program designed to fulfill the National Science Foundation's (NSF) mandate to promote scientific progress nationwide. Through this program, the NSF establishes partnerships with government, higher education and industry that are designed to effect lasting improvements in a state's or region's research infrastructure, R&D capacity and hence, its national R&D competitiveness. Dr. Judith Van Houten serves as Vermont State EPSCoR Director and is currently leading the Research on Adaptation to Climate Change in the Lake Champlain Basin (RACC) initiative. In 1992, the SBIR Phase (0) program for small businesses was launched in Vermont by Dr. Van Houten with Dr. Josh Van Houten, Professor Emeritus, Saint Michael's College. It now serves as a national model for small business development across EPSCoR jurisdictions.
About Vermont Center for Emerging Technologies (VCET): Since 2008, VCET has worked with over 1,300 start-ups and entrepreneurs, now operates 3 coworking facilities, curates an expert mentor network and makes direct investments from a $5M revolving seed capital fund. VCET was co-founded by US Senator Patrick Leahy, the University of Vermont's Dr. John Evans and the Vermont Technology Council. In 2013, VCET was named #11 globally and #5 in the US by the UBI Index.Visit at www.VermontTechnologies.com and follow @VCET