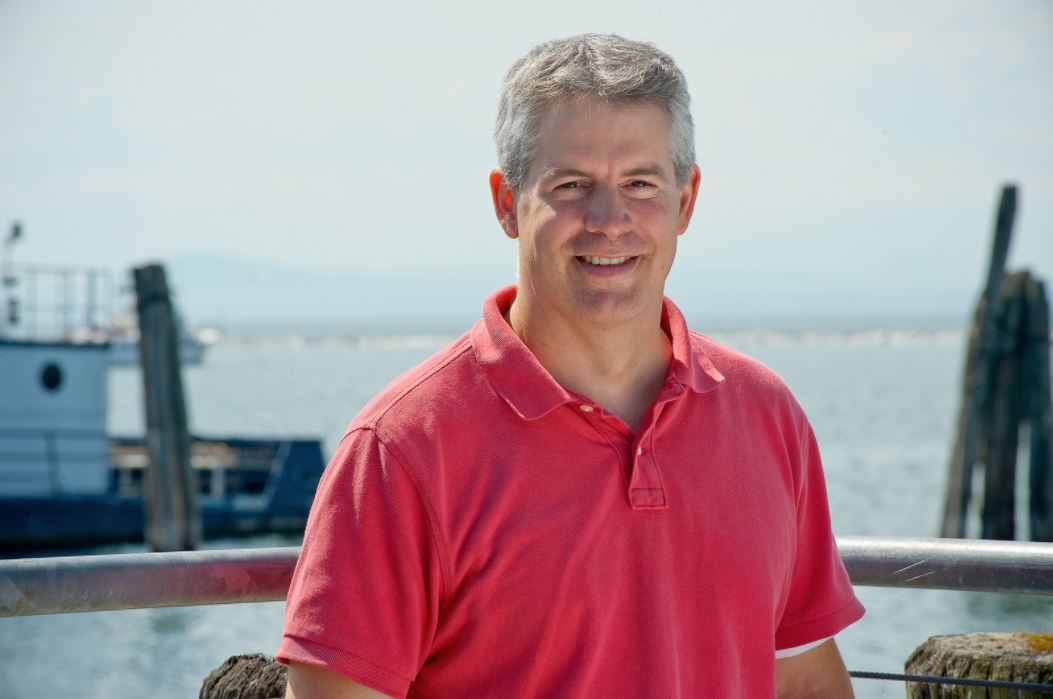 Dr. Jason Stockwell is a member of the VT EPSCoR RII Track-1 Lake Champlain Basin Resilience to Extreme Events (BREE) team. He is the Director of the Rubenstein Ecosystem Science Lab, and received tenure at the University of Vermont in 2014. Dr. Stockwell joined UVM through the VT EPSCoR Adaptation to Climate Change in the Lake Champlain Basin: New Understanding through Complex Systems (RACC) program in 2011. Dr. Stockwell was also recently awarded from the National Science Foundation (NSF) a Research Experience for Undergraduates (REU) grant.
Article by Jeff Wakefield, UVM Communications
,
jeffrey.wakefield@uvm.edu
Jason Stockwell, an associate professor in the University of Vermont's Rubenstein School of Environment and Natural Resources and director of the Rubenstein Ecosystem Science Laboratory, has received a Fulbright U.S. Scholar Program award to France to study the impact of storms on lake systems around the world. The announcement was made by the U.S. Department of State and the J. William Fulbright Foreign Scholarship Board.
Stockwell will conduct research at the Freshwater Ecology Lab on Lake Geneva at the Institut National de la Recherche Agronomique, or INRA, a French public research institute. In partnership with a team of investigators at INRA and other institutions, Stockwell will study storm impacts on 25 lakes in Europe, Asia, South America and North America.
"The research will enable us to put Lake Champlain in context, to see where we are on the spectrum of how storms impact lakes,"Stockwell said. "We'll contribute to knowledge in this area, but also be able to take new insights from the work and apply them to Lake Champlain."
Stockwell will conduct the Fulbright research from January to June 2018 while he is on sabbatical.
Stockwell is one of more than 800 U.S. citizens who will teach, conduct research and/or provide expertise abroad for the 2017-2018 academic year through the Fulbright U.S. Scholar Program. Recipients of Fulbright awards are selected on the basis of academic and professional achievement as well as record of service and demonstrated leadership in their respective fields.
The Fulbright Program is the flagship international educational exchange program sponsored by the U.S. government and is designed to build lasting connections between the people of the United States and the people of other countries. The Fulbright Program is funded through an annual appropriation made by the U.S. Congress to the U.S. Department of State. Participating governments and host institutions, corporations, and foundations around the world also provide direct and indirect support to the program, which operates in more than 160 countries worldwide.
Since its establishment in 1946 under legislation introduced by the late U.S. Senator J. William Fulbright of Arkansas, the Fulbright Program has given more than 370,000 students, scholars, teachers, artists, and scientists the opportunity to study, teach and conduct research, exchange ideas, and contribute to finding solutions to shared international concerns.
Fulbrighters address critical global issues in all disciplines, while building relationships, knowledge, and leadership in support of the long-term interests of the United States. Fulbright alumni have achieved distinction in many fields, including 57 who have been awarded the Nobel Prize, 82 who have received Pulitzer Prizes, and 37 who have served as a head of state or government.