06-04-2012 By Dawn Marie Densmore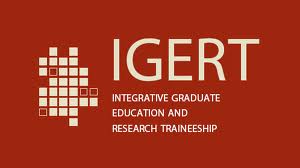 Jeffrey Marshall, a professor in the School of Engineering in the College of Engineering and Mathematical Sciences, spearheaded the coveted Integrative Graduate Education and Research Training (IGERT) grant from the National Science Foundation (NSF) for which UVM will receive approximately $3 million over five years to create an innovative, multi-disciplinary graduate program supporting 22 doctoral students who will be trained to analyze and develop smart grid systems. UVM is one of only 18 colleges and universities in the country to receive the IGERT award. This is the first IGERT to be awarded in the state of Vermont. The UVM proposal was chosen from among 154 IGERT proposals submitted to the NSF in 2012. The grant will also help support UVM's strategic initiative to increase diversity in its graduate programs.
Other UVM faculty who are co-investigators on the IGERT grant with Marshall include Margaret Eppstein in Computer Science, Stephen Higgins in Psychiatry, Paul Hines in Engineering, and Chris Koliba in Community Development and Applied Economics. Diann Gaalema in Psychiatry, Cynthia Forehand and Domenico Grasso in the Graduate College were also important contributors in the development of the project.
Faculty participants on the project come from many university departments in addition to those above, including Computer Science, Mathematics, Economics, and Psychology as well as researchers and staff from Sandia, the Vermont Law School, Champlain College, and the ECHO Center.
To read the article by Jeff Wakefield, from UVM Communications visit: https://www.uvm.edu/uvmnews/news/uvm-one-only-18-research-universities-c...
Vermont Public Radio (VPR) interviewed Dr. Jeffrey Marshall, professor in the School of Engineering, on the Vermont Edition, Monday, June 11, 2012. To access the VPR Vermont Edition broadcast visit: The Vermont Edition Website
WCAX-TV3 Across the Fence also featured Dr. Jeffrey Marshall on 2/1/12 with others including: Governor Peter Shumlin, Sandia Nataional Laboratories, vice president Rick Stulen, and Lori Burnham the principal member of the technical staff of Sandia, in a feature entitled,"The Center for Energy Transformation and Innovation at the University of Vermont".
Launched in 1997, the IGERT is the National Science Foundation's flagship interdisciplinary training program, educating U.S. Ph.D. scientists and engineers by building on the foundations of their disciplinary knowledge with interdisciplinary training. The IGERT program spans science, technology, engineering, mathematics and social sciences. Since 1998 the IGERT program has made 278 awards and has provided funding for approximately 6,500 graduate students.
For more on IGERT visit: https://vimeo.com/41796140