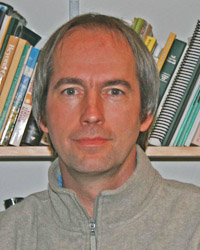 EPSCoR and the Science of Social-Ecological Systems:
A report from the Living on Earth III Conference - Fall 2012.
Presented by: Walter Poleman, PhD. Rubenstein School of Environment & Natural Resources.
Walter attended the Living on Earth III, a workshop hosted by the University of the Virgin Islands and sponsored by EPSCoR during October 2012. He was one of 50 scientists who participated in this ongoing endeavor to address the need for effective integration of processes linking scientific knowledge and analytical approaches in social-ecological systems (SES) research. Walter will share his thoughts about what was accomplished at the workshop, and his ideas for linking SES concepts and research with his own work in the realm of place-based landscape analysis and community engagement.
This seminar is open to all RACC team members.