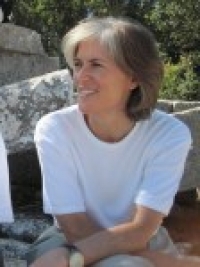 The UVM Alumni Association has named Donna Rizzo, professor of Civil and Environmental Engineering in the College of Engineering and Mathematical Sciences, winner of the 2014 George V. Kidder Outstanding Faculty Award.
The annual award honors full time faculty for excellence in teaching and advising, for their ability to inspire students and have a lasting influence on their lives and for their positive impact on campus life beyond the classroom. Dozens of faculty, alumni and students wrote in support of her nomination.
Rizzo received her doctorate from UVM in 1994 and has been in a tenure-track faculty position since 2002. She has received more than $8 million in research funding and was recently named to the Dorothean Chair in the College of Engineering and Mathematical Sciences, established by Stuart "Red" Martin in honor of his wife, Dorothy, which honors faculty whose work promises to advance the field, who are doing major scholarly work with graduate students, and who teach basic engineering to undergraduates.
Rizzo's research focus is on the development of new computational tools to improve the understanding of human-induced changes on natural systems, particularly groundwater, and the way decisions are made about natural resources. Rizzo also worked in the private sector as a consultant and as the co-founder of Subterranean Research, Inc., a Vermont company designed to speed the diffusion of research and new technologies into environmental practice.
Rizzo's average rating from student evaluations over the 12 years she has taught at UVM is 4.7 on a scale of 5, an impressive accomplishment given the many large classes she teaches. Rizzo's prowess as a researcher and her engaging manner in the classroom have also inspired 80 undergraduates to assist her in her research.
Rizzo received the 2011 Jackie M. Gribbons Leadership Award from the Vermont Women in Higher Education and the 2007 Outstanding Faculty Woman Award, which honors faculty who have made significant contributions to the lives of women on campus through service, teaching and scholarship. She has advised many organizations on campus, including the Society of Women Engineers, and sits on numerous campus committees.
In nominating Rizzo for the Kidder award, the words of one alumna are representative: "Throughout my undergraduate program, there was no one who equaled Dr. Rizzo's commitment to students. Her door was literally always open. Even more remarkably, she noticeably cared for her students and always provided us with motivation and support, in addition to help, with the class subject matter. It is in part because of Dr. Rizzo's outstanding teaching ability that I proudly and comfortably pursued the field of civil engineering as a woman, a profession I have excelled in."
Content provided by UVM UNIVERSITY COMMUNICATIONS