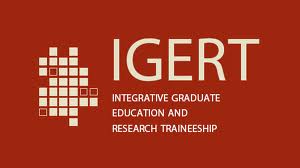 The National Science Foundation (NSF) offers three major investment strategies to achieve its goal of improving the Research & Development competitiveness of researchers and institutions within EPSCoR jurisdictions of which co-funding is one.
Co-Funding, as described by the NSF, is intended to "accelerate the movement of EPSCoR researchers and institutions into the mainstream of NSF support, EPSCoR Co-funding is available to provide joint support for certain meritorious proposals submitted to NSF's research, education and cross-cutting competitions."
The recent, and highly prestigious Integrative Graduate Education and Research Training (IGERT) award by lead investigator, Jeffrey Marshall, Professor in the School of Engineering in the College of Engineering and Mathematical Sciences, is one such success story. More information about the VT IGERT program can be seen HERE.
We congratulate Dr. Marshall and the team of researchers for their successful proposal!
The Vermont Experimental Program to Stimulate Competitive Research (VT EPSCoR) has competed successfully for each Research Infrastructure Improvement Program Award opportunity, in addition to its Workshop Awards, such as the successful Water Dynamics Workshop hosted in Burlington, Vermont in 2008. http://www.uvm.edu/~epscor/includes/events/Water_Conference/
Below is a brief list of current VT EPSCoR RII-Awards
Research Infrastructure Improvement Program:
Research infrastructure Improvement (RII)- Track-1
Adaptation to Climate Change in the Lake Champlain Basin: New Understanding through Complex Systems Modeling (RACC)
RII Track-2
The Northeast Cyber infrastructure Consortium (NECC)
RII C-2
Improving Connectivity between the University of Vermont and the Vermont State College for STEM Research and Education