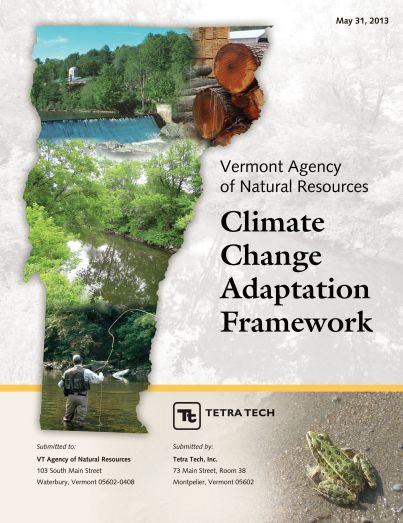 INTRODUCTION
If you don't like the weather in Vermont, wait ten minutes. So the saying goes. The weather is in the conversations of Vermonters, those who visit for sports and scenery, and those who depend on Vermont products and commerce. Recent flooding events, especially Tropical Storm Irene in 2011, were catastrophic for several communities and natural areas throughout Vermont. These required heroic responses and unanticipated resourcesfrom individuals and towns, as well as State and Federal agencies. Climate affects so much of our lives that the possibility of significant disruption in patterns due to global climate change spurs us to speculation, and preparation. The regional climate models predict that the changing patterns we have observed so far – increases in temperature and more extreme fluctuations in precipitation – are likely to continue. If you don't like the climate in Vermont, wait 50 years, but we can't promise you'll like it any better.
The entire report can be found at:
http://uvm.edu/epscor/pdfFiles/2013.0610.vtanr.NR_CC_Adaptation_Framewor...