SBIR/STTR Funding Workshops
Sponsored by VT EPSCoR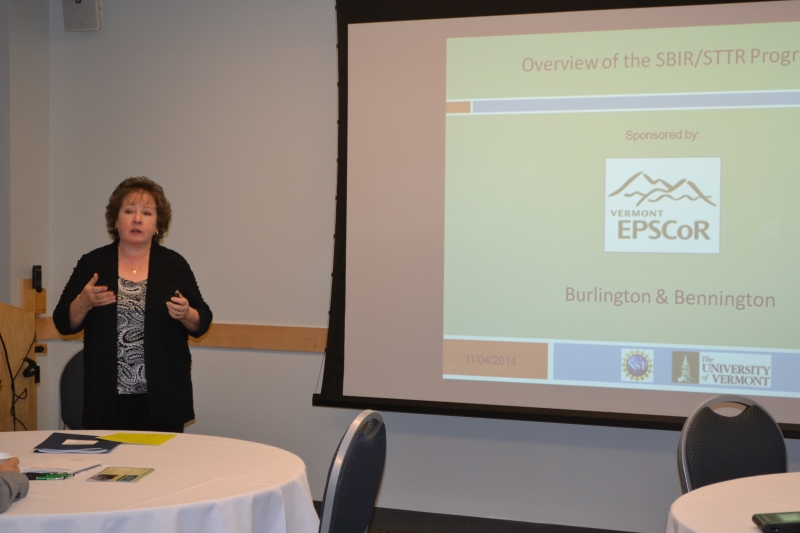 Two SBIR/STTR funding workshops were conducted in Burlington and Bennington on November 4th and 6th, 2014. Ms. Karen West was the keynote presenter. Karen West owns C & P Management Services, LLC, in Washington, Maine, a small, woman- and veteran-owned business that provides strategic business management assistance to small and large businesses. With concentrated expertise in purchasing, proposal management, and contract management services, Karen has over twenty-six years of business experience including government and civilian contracting, subcontracting, and supply management. She has had hands-on, in-depth experience from small purchases to complex multi-million dollar environmental, electronic, aerospace, and R&D proposal preparation, contract negotiation, and administration for both small and large businesses with an emphasis on the Small Business Innovation Research/Small Business Technology Transfer (SBIR/STTR) program.
Dr. Patrick Clemins, Cyber Specialist and Private Sector Liaison for VT EPSCoR, provided valuable information on the Vermont EPSCoR SBIR/STTR Phase (0), Private Sector Pilot, and Use of Facilities awards for attendees. All three funding mechanisms currently have open requests for proposals. For more information please visit the VT EPSCoR website.
The workshops also included panels of past SBIR/STTR award winners from Stromatec, Quantaspec, Inc., Omega Optical, and Battenkill Technologies, Inc. The panelists reflected on how they have leveraged federal Phase I and II SBIR/STTR grants to grow their businesses and keep their research and development pipelines full. They also engaged in an extended Q&A session with the attendees.