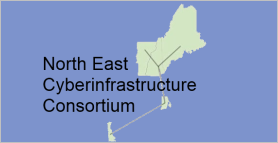 The North East Cyberinfrastructure Consortium (NECC) Watershed Project
From 2006 through 2012, water research and outreach programs joined forces to create a regional program called the Watershed Project. The Project was a collaborative effort to train high school and undergraduate students in water quality research in Vermont, New Hampshire, Rhode Island, Delaware and Maine.
Who participated in the Watershed Project?
Participants came from the five NECC states (Vermont, Delaware, Maine, New Hampshire, Rhode Island) as well as New York, Connecticut, and Puerto Rico. Participants were:
* Undergraduates
* High school students
* High school teachers
* Graduate student researchers (as mentors)
* Faculty researchers (as mentors)
What did participants do?
* Learned how to conduct hands-on research on streams at a one-week training session.
* Collected water quality, macroinvertebrate, and land use data.
* Worked with real data and researchers
* Presented their own research at an annual symposium.
What were the goals of the Watershed Project?
* Engaged and trained the next generation of scientists.
* Gathered water quality data on streams in the Northeast.
Who ran the Watershed Project?
EPSCoR programs in five states:
* Vermont
* Delaware
* Maine
* New Hampshire
* Rhode Island