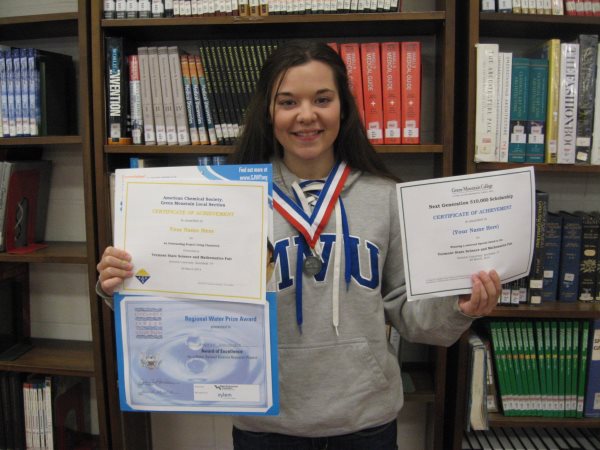 Hannah Choiniere, RACC Streams Project high school participant and Missisquoi Valley Union High School student, won several prizes for her research poster titled "Can buffer strips reduce the effects of nutrient runoff from fields on water quality in Vermont?" presented at the Vermont State Science and Mathematics Fair on March 29, 2014. Hannah was supported and guided by her science teacher, Dana Maria Dezotell.
Hannah's research was awarded with the Silver Medal of Excellence, Green Mountain MWEA Top Award for Green Mtn. Water Environment Association $200; American Chemistry Society GMLS American Chemical Society, Green Mtn. Local Section, a $10,000 Next Generation Scholarship to attend Green Mountain College, third place with $50 for Outstanding Project Using Chemistry, $50 Agricultural Award (third place); and she was selected as a state finalist for the Stockholm Junior Water Prize Award of Excellence for a Water-Related Science Research Project (state winners will be announced the first week of May 2014)!
Congratulations, Hannah!