2019 Vermont EPSCoR Undergraduate Research Symposium & Scholarship Ceremony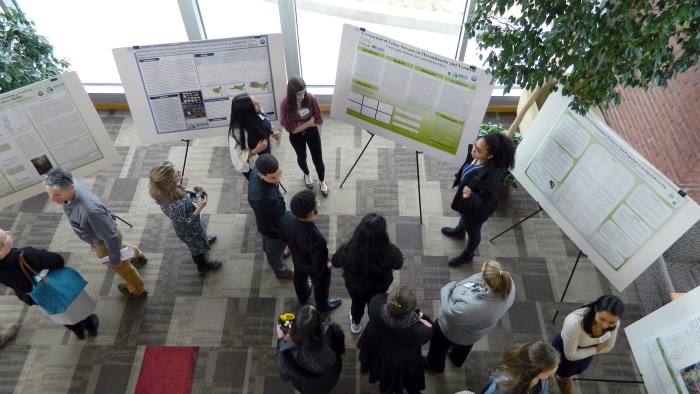 The Vermont EPSCoR Undergraduate Student Research Symposium and Scholarship Ceremony, hosted by the Center for Workforce Development and Diversity (CWDD), took place on Thursday August 1, 2019 at Main Street Landing, Burlington, Vermont. The Symposium showcased the work of undergraduate student researchers in the Basin Resilience to Extreme Events (BREE) program.
The event also celebrated the 2019 recipients of the EPSCoR Awards for First Generation and Native American students pursuing a STEM major at a Vermont college. These competitive scholarships are awarded on the basis of academic standing, letters of recommendation, and an essay detailing career goals.
The Vermont EPSCoR Student Research Symposium offers student researchers an opportunity to practice their science communication skills in a professional environment, and provides a critical capstone to the summer undergraduate internships. BREE research provides valuable insights on the Lake Champlain Basin for many stakeholders throughout Vermont. The many contributions from this year's young scientists will help improve our understanding even more!
If you have questions about this year's symposium email us at
cwdd@smcvt.edu
---
For past Vermont EPSCoR Student Research Symposiums:
2019 Undergraduate Symposium, Summer
2019 Symposium, Spring
2018 Symposium
2017 Symposium
2016 Symposium
---
Contact Information:
VT EPSCoR Center for Workforce Development and Diversity
Saint Michael's College
One Winooski Park Box 137
Colchester, VT 05439
802.654.3270
cwdd@smcvt.edu