| | |
| --- | --- |
| | Thank you for your interest in the Vermont EPSCoR SBIR/STTR Phase (0) program. Our SBIR/STTR Phase (0) program has been suspended while we pursue new funding. Please contact Vermont EPSCoR using the Contact link above for more information or any inquiries. |
---
---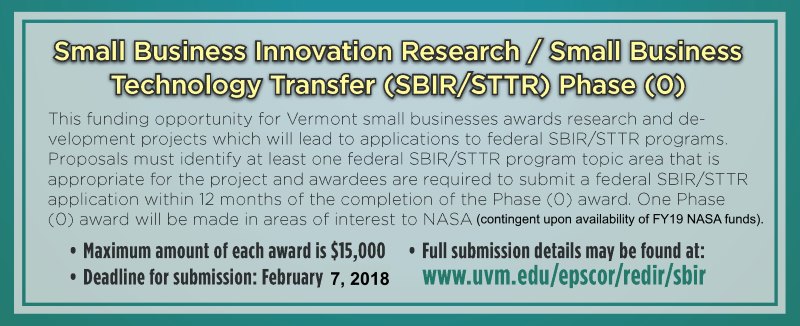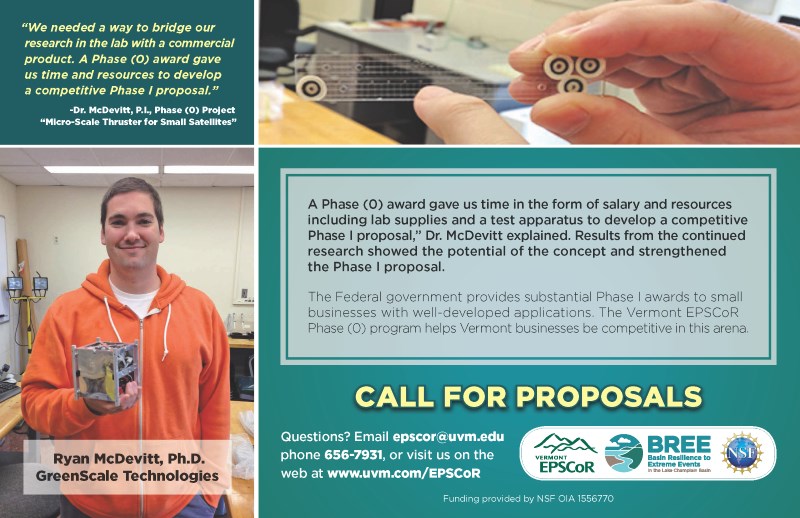 SBIR Phase (0)
Vermont EPSCoR (Established Program to Stimulate Competitive Research) has been supporting research at Vermont's colleges and universities with funds from the National Science Foundation and local sources since 1986. The impact of the EPSCoR program also includes the private sector – particularly small, technology-based businesses. Vermont EPSCoR will once again provide the opportunity for Vermont small businesses to compete for grants to foster research and development projects which will lead to application to federal Small Business Innovation Research (SBIR) programs.
The following features in this solicitation should be noted:
Program Overview:
The main goal of the Vermont ESPCoR Phase (0) solicitation is to identify proposals that show promise for success in federal SBIR competitions and that would benefit from financial support and reviewer comments. As such, each proposal should identify at least one federal SBIR program to which the work is targeted
Business must be registered in Vermont
One award will also be made in areas of interest to NASA using NASA-EPSCoR funds (contingent upon availability of FY19 NASA funds). To show that an area is of interest to NASA, the PI should identify their proposed project with a new or continuing NASA research priority or technology need. This can be done by reference to a URL on a NASA website or by including an email of support from a NASA contact. The project has to include a full-time faculty researcher at a Vermont college or university as a collaborator. Only NASA projects carry this requirement.
The maximum amount of each grant is $15,000.
Multiple year Vermont EPSCoR Phase (0) awardees must take a 1 year break from submission after their third consecutive successful award.
Awards contingent upon NSF funding for Vermont EPSCoR.
Funding may not be used to support Master's Students' salaries.