This page has been updated. The updated page is located at https://epscor.w3.uvm.edu/2/node/5687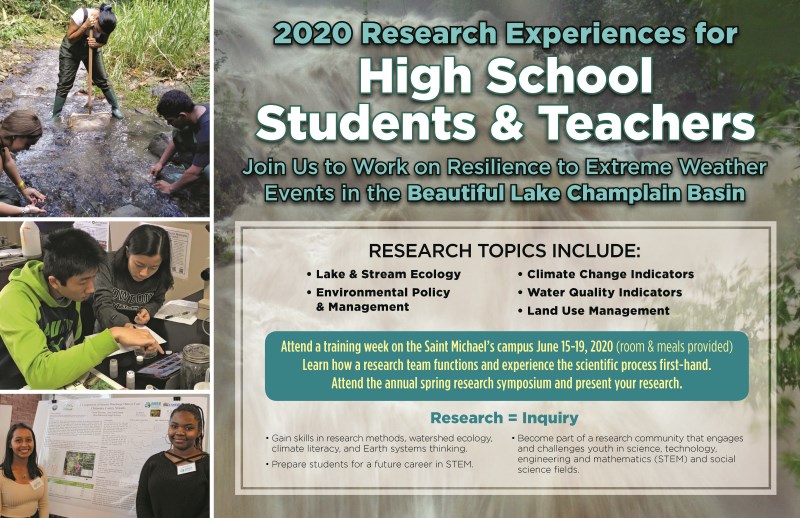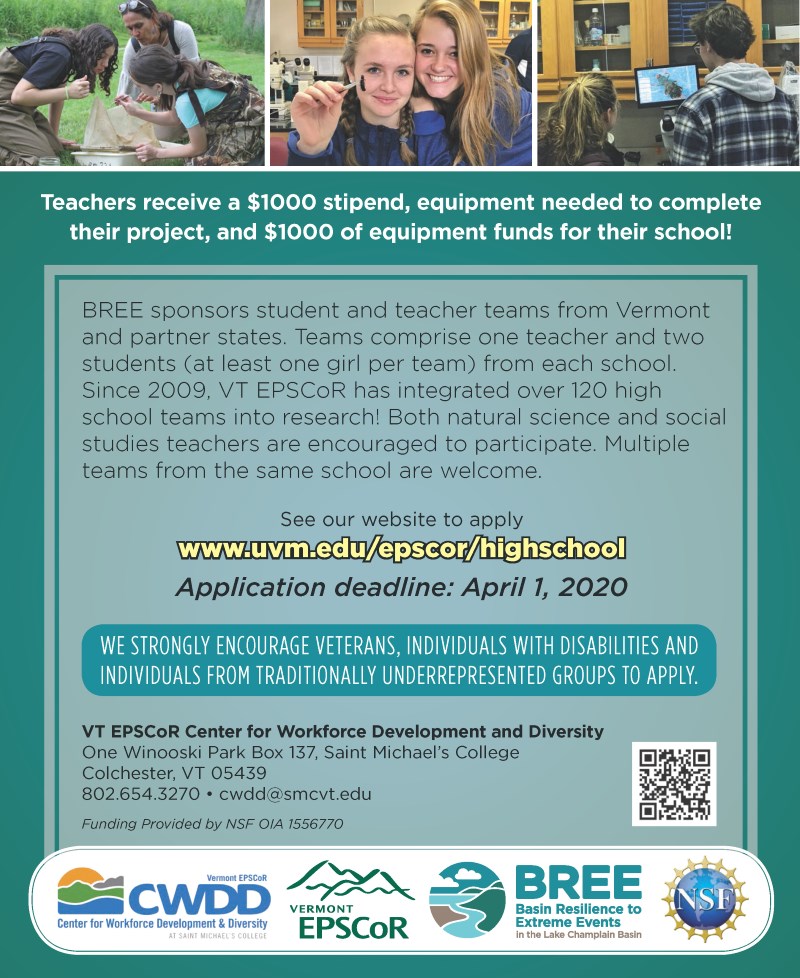 High Schools! Participate in the Basin Resilience to Extreme Events Project
The High School Program offers students and teachers the opportunity to participate in current research. Through involvement in the Basin Resilience to Extreme Events (BREE) research program, participants develop skills in scientific methods and Earth systems thinking and experience what it is like to be a scientist.
Links and Resources for Current Teams!




What does the BREE High School Program Involve?
Teacher and Student Teams
One teacher and two students comprise each high school team (teams must have at least 1 female student). These teams join a group of fellow high school teams, undergraduates, graduate students, and faculty that research the interactions of climate, environment, society and land use policy. By participating in the High School Program, teachers and students become a part of a community of researchers and local specialists that engage and challenge youth in Vermont and beyond. Visit the BREE page to learn more about the science behind the project.
Teams will:
• Attend a training week during summer break (room, meals and training provided). 2020 dates: June 15-19, 2020.
 Contingency COVID-19 dates will be July 20-24th.
 Updates will be provided.
• Learn research methods and skills,
• Learn and experience how a research team functions,
• Investigate a research question of your own design during the school year, and
• Attend the annual Vermont EPSCoR Student Research Symposium and present research findings together with undergraduates, graduate students, and faculty in the spring of 2021.
What type of research will we do?
Natural and Physical Science teams will join the Streams Project, a large group of researchers interested in how streams and water quality are impacted by climate change, land use, and precipitation. The data you collect will sustain the long-term Streams Project database and help answer questions related to nutrient and soil input to Lake Champlain, stream macroinvertebrate community composition, and more! Learn more about Streams Project data collection. Streams Project teams will use this dataset to investigate a research question of their choosing.
Social Studies teams can conduct surveys that analyze their town's green infrastructure, or collect audio stories from local landowners and compile data from personal journals recording historic maple sugaring dates, planting dates, etc. See the Burlington Geographic website that details a Social Studies project conducted by Rice Memorial High School in 2012.
All teams will complete and present a project at the annual Vermont EPSCoR Student Research Symposium. Both natural science and social studies teachers are encouraged to participate. Multiple teams from the same school are welcome.
What is the time commitment for High School Teams?
Participants will commit to be involved in the project for one year (June - April), spending ~3 hours per week on project-related data collection and analysis. Each team is trained in the necessary skills and content during the Training Week. Teams will participate in the BREE research program remotely from their schools from July through April. Participants will complete an individual research project and present their results at the Vermont EPSCoR Student Research Symposium in the spring. The training week and symposium are required elements of participation. Teams are welcome, and encouraged, to continue to participate in subsequent years if they choose.
What are the benefits to High School Students?
This experience will provide students invaluable insight into the professional world of science. The teams not only learn science content, but understand how a research team functions and experience first-hand the scientific process. Participation in this program will help inform students about educational and career opportunities available in science, technology, engineering and mathematics (STEM). Many participants go on to study science, math or engineering in their next level of education.


What are the benefits to High School Teachers?
Research experience can be a powerful way for teachers to enhance their science content knowledge and pedagogy. Teachers have the opportunity to work closely with the students they select for their team, but can also integrate their learning and experience into their classes.
Upon completion of the program teachers receive a $1,000 stipend and $1,000 in equipment for their school. High school teachers are also eligible to receive Continuing Education credits for their participation. Teachers will use their stipend to cover the cost of tuition and can receive up to 3 Continuing Education credits. For more information on obtaining academic credit, please contact the CWDD office:
Phone: (802) 654-3270
Email: cwdd@smcvt.edu
How do I apply to participate?
Teams must complete the online application and submit all application materials to be considered. Separate application components need to be completed by each team member. After a teacher completes their application, emails will be sent to the requested students with instructions for completing their part of the application. Former participants of the VT EPSCoR Streams Project are encouraged to apply. Past participation in an EPSCoR project does not ensure acceptance. Participation in this program requires a serious time commitment (~3 hrs per week). Please consider this when applying.

Electronic submission deadline: April 1, 2020 by 4:00 pm

Teams should include at least one female student. We strongly encourage individuals with disabilities, and students from traditionally underrepresented groups to apply.


View photos from past training weeks at Saint Michael's College!



Contact Information:
VT EPSCoR Center for Workforce Development and Diversity
Saint Michael's College
One Winooski Park Box 137
Colchester, VT 05439
802.654.3270
cwdd@smcvt.edu
Contact Us