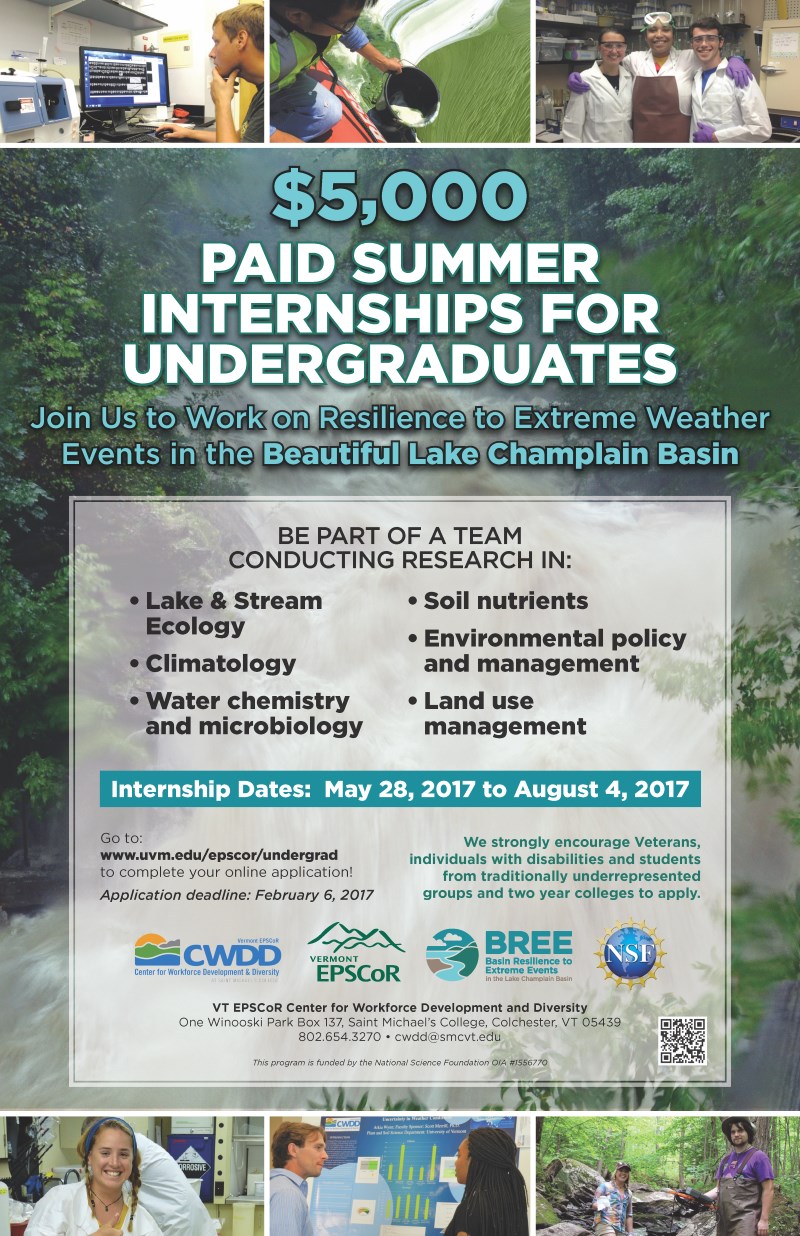 BREE Undergraduate Summer Internships
The Undergraduate Internship Program offers students the opportunity to participate in current research conducted through the Basin Resilience to Extreme Events (BREE) program. Undergraduates will be matched with a research team working on the transdisciplinary BREE research program. In spring, research teams will meet together at a Symposium to share their discoveries through an oral or poster presentation of their research. Students will do full-time, authentic research for 10 weeks in one of the following areas:
Lake and Stream Ecology
Climatology
Water Chemistry & Microbiology
Soil Nutrients
Land Use Management
Environmental Policy & Management
Computer Programming
The range of research areas in which students may participate is quite extensive. BREE interns delve into research projects -an opportunity not often available during the academic year. Projects are markedly different from most course-based work in that they are open-ended and part of a much larger research program.
2017 summer internship opportunities


Internships are available on these campuses and are open to students from any institution:
• Johnson State College in Johnson
• Saint Michael's College in Colchester
• University of Vermont in Burlington
• Lyndon State College in Lyndon
• Middlebury College in Middlebury
• Castleton University in Castleton


Internship Period
The internship lasts 10 weeks during the summer (May 29- August 4, 2017). The program starts with a 5-day orientation at Saint Michael's College from May 29-June 2 (all students stay on campus; housing/meals provided). The following spring, interns are required to attend and present their research at the Vermont EPSCoR Student Research Symposium.


Financial Support
Interns earn hourly wages for the equivalent of $5,000 over the 10 week period (up to 400 hours). Worker's compensation at 8.7% is part of the wages.


Eligibility
• Students graduating prior to the start of internship are not eligible to apply.
• Applicants must be US citizens or permanent residents enrolled in a college or university with a strong interest in a career in a STEM or social science field.
Individuals with disabilities, veterans, students from underrepresented minority groups, and students from two year colleges are strongly encouraged to apply.


Application Procedure
The applications require a letter of recommendation from a faculty member, unofficial transcript, and a short essay. Applications will be due February 6th. Selection and placement of students will take place in February and March. Applicants who are not placed will be notified by the end of March.


Thank you for your interest in the 2017 internship program. The application closed on 2/6/2017.
Photos
summer interns in action!
Contact Information:
VT EPSCoR Center for Workforce Development and Diversity (CWDD)
Saint Michael's College
One Winooski Park Box 137
Colchester, VT 05439
802.654.3270
cwdd@smcvt.edu